Picture: Jack Guez/AFP – Israeli military veterans wave national flags during a rally against the government's judicial reform bill, near Netanya this week. On Monday, Prime Minister Benjamin Netanyahu put off a decision on the bitterly contested plans for a judicial overhaul also had yet to confirm whether his dismissal of Defence Minister Yoav Gallant still stands.
By Ishaan Tharoor
Israeli Prime Minister Benjamin Netanyahu unleashed what critics dubbed a full-scale assault on his country's democracy, but now he finds himself under siege. For the past four months, hundreds of thousands of Israelis have marched against his far-right government's plans to overhaul Israel's judicial system – a mooted assertion of government control over the courts that plays into the agendas of the ultra-Orthodox and right-wing nationalists in Netanyahu's coalition.
It has also triggered a deep backlash against the perceived wrecking of the democratic norms that it entails. On the world stage, where Netanyahu is often most comfortable, the Israeli premier has been humbled. His plans have drawn rebukes from President Joe Biden and leaders in France, Germany and Britain.
The protests have underscored exasperations in Washington with Netanyahu, who has loomed large over Israeli politics as well as US-Israeli relations for the better part of a generation. And at home, the mounting opposition has created cracks in the right-wing Likud party that Netanyahu has dominated for years.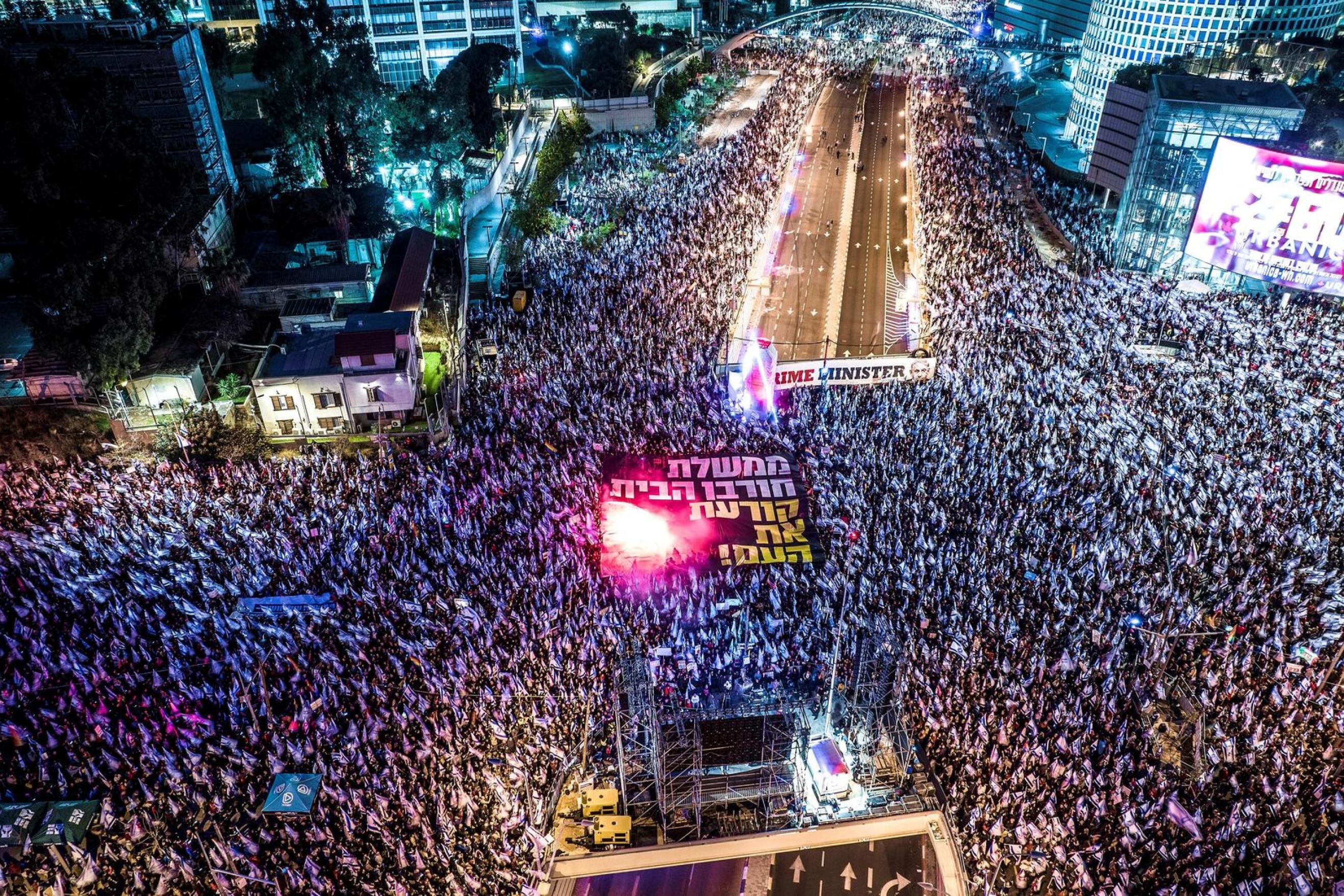 On Saturday, Israeli Defence Minister Yoav Gallant called for the judicial overhaul to be frozen, as hundreds of reservists boycotted their training and members of the Israeli military joined the protests. "This poses a clear, immediate, and tangible threat to the security of the state," he said in a statement. "For the sake of Israel's security, for the sake of our sons and daughters, the legislative process should be stopped."
Gallant's appeal, echoed by two other Likud legislators, raised the prospect that Netanyahu's coalition may not be able to ram through the legislation with its slender four-seat majority in the Israeli Knesset, or parliament.
On Sunday, Netanyahu dismissed Gallant, raising the stakes in a spiralling crisis. By the evening, crowds gathered at the Knesset after police fired water cannons to disperse protesters outside Netanyahu's residence. They chanted "democracy!".
There are many reasons Netanyahu finds himself in this bind. In Washington, liberal supporters of Israel emphasise the right-wing prime minister's own relentless will to power. He faces an ongoing legal case involving multiple corruption charges and is widely believed to be engineering whatever political dispensation can get him out of hot water.
"One of the most repeated theories raging across social media and television chat panels is that he cares less about healing the country than avoiding prosecution and hopes the prospect of handpicked judges will help him turn aside the corruption charges that have dogged him for years – and that he is still fighting in a Jerusalem court," my Washington Post colleague Steve Hendrix wrote.
He added that it also may be that the famously wily Netanyahu has "lost a step". "It's hard to understand – he knows the damage that's being done," Dan Ben-David, president of the Shoresh Institution and an economist at Tel Aviv University, told colleagues.
"As the longest-serving prime minister in our history, he should be concerned with his legacy, which right now is burning down the house." Aviv Bushinsky, a former chief of staff to Netanyahu, told The Post: "My view is that he lost control. He didn't perceive that there would be such objection in the streets and the world."
If Netanyahu has lost control, it's because the maelstrom he has unleashed is about much more than him. To come to power, he mainstreamed extremist far-right settler factions and brought them into the heart of his coalition. He has also leaned heavily on the support of ultra-Orthodox parties, which see the proposed judicial reforms as a key vehicle to push their religious project on broader Israeli society.
He gave momentum to a hard right, illiberal agenda that has been gaining traction for years. The mass protests in Tel Aviv and other cities, often attended by more well-heeled and secular Israelis, are in part a reflection of a profound ideological divide within the country.
The government's legislative plans are "breaking the very delicate balance between mainstream Israel and the ultra-Orthodox who understood that they depend on a liberal, prosperous society with a strong military", Yofi Tirosh, a vice-dean of law at Tel Aviv University, told colleague Shira Rubin. But some analysts on the Israeli left point to an even deeper set of forces at play.
Millions of Palestinians live under de facto Israeli military control, shorn of many of the same rights afforded to their Israeli neighbours. Their mere existence casts into shadow any substantive debates over what Israeli democracy stands for, especially when one considers how Bezalel Smotrich – a far-right settler leader turned leading member of Netanyahu's cabinet with civilian administrative powers over the occupied West Bank – recently publicly declared that Palestinians as a people don't actually exist.
And there is no coincidence that Palestinian lands and political aspirations are among the first things in the crosshairs of Netanyahu and his far-right allies as they unfurl their legislative plans. "While protesters – many of them among the most privileged in Israeli society – walk in the streets demanding the 'rule of law' and 'democracy', Israeli forces are demolishing Palestinian homes; standing alongside settlers who are terrorising Palestinians; denying freedom of movement and assembly; holding people in prolonged detention without trial; killing unarmed protesters; carrying out torture; and deporting Palestinian activists," wrote American Israeli journalist Mairav Zonszein. "And within Israel, Palestinian citizens face structural discrimination and inequality under an explicit policy that prioritises Jewish rights."
Gershon Baskin, an Israeli peace activist, recently marched in the anti-government protests with a sign that read, "There is no democracy with occupation". "No honest Israeli can claim that the military control over millions of Palestinians, without the most basic civil, human and political rights, can really be called a democracy," Baskin wrote in an op-ed in the Jerusalem Post.
"While so many Israelis have finally awakened to the distortions of our democracy and the threats to all of us," he added, "perhaps they will now also wake up to the need to confront the central core of our existence as a modern liberal society in which there must be full equality for all of those who live under the same regime."
The article was first published in The Washington Post