Picture: Ayanda Ndamane/African News Agency (ANA) – South Africa-Cape Town-6 October-2022 – A young man walks down a street in Wallacedene, named after Prof Wallace Mgoqi. He helped save them from eviction from the land 30 years before.
By Wallace Mgoqi
In order to understand the origins of the place now known as Wallacedene, it is important to consider the social, economic and political forces at play at the time, the late 1970s to the early 1990s.
Socially, Apartheid divided the population into four racial groups, White, Coloured, African (Bantu) and Other (Indian or Asian). Each of these were classified in terms of the Population Registration Act of 1950 in these categories and were to live physically separate lives. Africans and Coloureds in the lower classes could live together, this was tolerated, but was not official policy, at times they even inter-married.
Politically, Whites dominated the political scene, they held elections periodically, where only Whites voted, and later they introduced a political dispensation where Coloureds and Indians had separate houses of representations or "parliaments" and Africans were further divided throughout the country into various ethnic groupings, Xhosa, Zulu, Tswana, Venda, Tsonga, Ndebele etc, and were confined to "homelands" which later had self- governing structures.
Economically, Whites possessed most of the economic resources like land, minerals, controlled government and wielded power along racial lines which made Whites to receive preferential treatment in everything.
My involvement with people living in informal settlements started in earnest, after I graduated from the University of South Africa (Unisa) and became a Social Worker. I joined an NGO called the Cape Flats Committee For Interim Accommodation (CFCIA).
This opened my eyes to the large numbers of people who were forced to live in Informal Settlements, as they had no decent accommodation in established townships for Coloureds or Africans. Most of these people came from areas like the Eastern Cape and rural areas of the Cape of Good Hope.
Living in urban areas was strictly controlled by the Apartheid government through laws, like the Urban Areas Consolidated Act and Regulations. In the case of Africans, only those who were born in the area were allowed to remain; or those who had employment with one employer for 10 years; or worked continuously for 15 years, outside of these categories, those who had no valid permit to remain, were "endorsed out under" the so-called Section 10 of the same Act.
My wife's ID contained her details like where she was permitted to live, the specific address; where she was employed, date of engagement and date of discharge, signed by her employer. The driver's licence was also pasted inside the ID book with the ID Number only on it.
She was expected to produce this ID on demand by the police at any time, failing which she was liable for arrest.
African men were mainly recruited from the homelands through the employment bureau agency (TEBA) and were forced to live in single-sex hostels, even though they were married. When their wives visited them, during the course of the year, they would erect temporary structures to stay with their wives , who were issued with 14 day permits, at the expiry of which, they were liable for arrest.
I never forget the tragic story I was told by a husband who worked for the company Everite, in Brackenfell, making cement products, here in Kraaifontein. As these married men erected these temporary structures outside the premises of the company, to accommodate their wives, inspectors from the Stellenbosch Divisional Council would come in their vans and literally raid these women, whilst their husbands were at work.
When arrested they had to pay a fine or the husbands did so, in order to avoid arrest, they would run deep into the bush to escape arrest. When they heard the sound of the raiding vans, they would shout: "Kubomvu! (Danger!)" and they would start running deeper into the bushes. This one woman, who was highly pregnant, in the course of running fell upon a tree-stump, and she fell and the baby died. The sorrow on the man's face would never leave me, for a long time. As a Social Worker I felt powerless. It was then that the idea dropped that I should study further and become a lawyer.
I witnessed in the same area where Wallacedene stands today, the power of the law, when the High Court ordered the White inspectors of the Stellenbosch Council to re-build a shack they had demolished illegally. This incident, of watching these bullies rebuilding a shack, because they were so ordered by law, through the courts, rekindled in me the dream I always cherished, of becoming a lawyer.
At the earliest opportunity that presented itself for me to go back to university to study, I registered with Unisa and later transferred to the UCT.
Kraaifonten, administratively fell under Stellenbosch Divisional Council. Africans and Coloured people could only be seen in the area during the day, at night they were expected to vanish into thin air. In fact all towns in the country had curfew regulations, in terms of which after 9pm, people of colour were arrested if found loitering in town.
There was a farm area known as Uitkyk where there was a mixed group of Coloured people and Xhosas who lived and worked around Kraaifontein. Their presence was tolerated. They lived on a farm belonging to a private white landowner.
One afternoon, in late 1988, a group of people came to the offices of the Legal Resources Centre, reporting that they were being evicted from land they were occupying. I was already an admitted attorney, as I had gone back to UCT to do an LLB.
We checked the ownership of the land from the eviction notices they brought to us. We found that the owner was different on the notices. On this basis, knowing that the Prevention of Illegal Squatting Act provided that the power to evict resided solely in the owner, we sought a Judge-on-duty.
We applied for an urgent interdict to stop the eviction, there and then, and we got it. The Sheriff of the Court delivered the Court order, the eviction was stopped.
Of course, this was a technical, procedural and pyrrhic victory, which could be corrected the very following day.
But as God's mercy works, the lawyer representing the landowner happened to be someone I knew, who had been an acquaintance at university. We were in the same final year class at UCT. She felt embarrassed that being a liberal person, she was now acting in a case where she was representing the powerful against the poor and powerless.
I negotiated that before new proceedings against our clients were resumed, they be given enough time to find alternative accommodation. We were initially given three months , extended to another, until we got to 1990, by which time Mandela was released from prison. The upshot of it was that the Provincial Government of the Western Cape expropriated the land to establish an informal settlement, and infrastructure was built, sites were demarcated, and Eskom brought electricity, and people were allowed to settle on the land.
There were celebrations over this victory, and all the activists who were known to have supported the community had streets named after them. These were people like Doris Neewat, who later became a Mayor in Kraaifontein, Allan Boesak, lawyers like Nathan Erasmus, who later became a Judge of the Western Cape High Court, Steve Majiet, who rose in his legal career, to become a member of the Supreme Court of Appeal, now a member of the Constitutional Court, and many others.
Apparently, the community had applied to have the name of the area changed from Uitkyk to my name Wallace and added -dene, as the area across was Scottsdene, hence Wallacedene.
I received a letter from the Provincial Government confirming that the National Places Names Board had approved the re-naming to my name: a copy of the letter is in my archives.
The Legal Resources Centre was so proud of this victory linked to one of its lawyers that in its Newsletter of the Legal Resources Centre No 2 of 1992, it published an article titled: What's in a Name? I have a copy in my archives.
In a short time infrastructure was put in, streets were created and named, electricity was installed, taps were installed, people could build their own homes, limited only by their means.
A first lower primary school was established by the likes of Braam Mhlom, later a high school, Hector Pietersen High School, later still Wallacedene Senior Secondary School. Now the community numbers more than 20,000 people, with lots of facilities and institutions, including a Community Hall, creches, clinics, a lot of Spaza shops, among others.
This year , 2022, Wallacedene is 30 years old, but it is so overcrowded, holding a population far beyond its capacity, typical of all human settlements for people of colour in the whole country.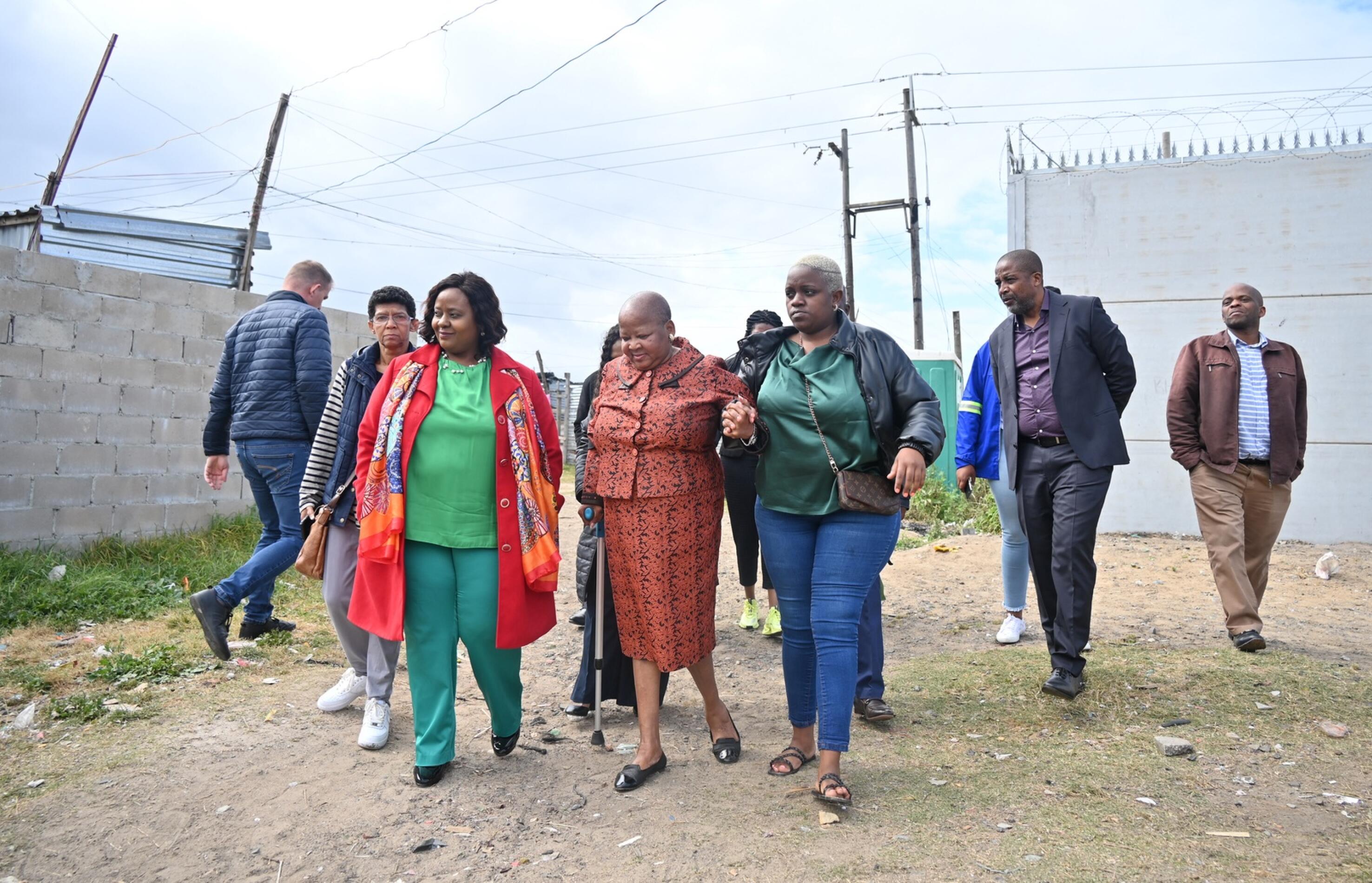 Recently, a missionary couple from Swaziland abandoned a Child Care Centre, that fully sponsored by the Architectural firm Saotaand whose plans were already approved, after a tedious process of three years, because people invaded the very land on which the centre was to be built.
These are the but some of the indignities African people continue to suffer in South Africa.
Dr Mgoqi is chairperson of Ayo Technology Solutions Pty (Ltd). He writes in his personal capacity.
This article is original to the The African. To republish, see terms and conditions.