Picture: EPA-EFE Rockets are launched in a surprise attack at dawn, from the coastal Gaza Strip towards Israel, by militants of the Ezz Al-Din Al Qassam militia, the military wing of Hamas, yesterday. Rocket barrages were launched from the Gaza Strip early Saturday in a surprise attack claimed by the Islamist movement Hamas.
By AFP
Palestinian militants began their biggest assault against Israel, which they infiltrated by air, sea and land from the blockaded Gaza Strip yesterday, in a major escalation in the Israeli- Palestinian conflict. Israel said it was on a war footing as it began its own strikes against Hamas targets in Gaza, with Israeli media reporting on gun battles between Palestinian fighters and security forces in southern Israel.
Prime Minister Benjamin Netanyahu said, "we are at war", and vowed severe retaliation after ordering an extensive mobilisation of Israeli army reserves. "Citizens of Israel, we are at war. Not an operation, not an escalation – at war," he said in a video posted on social media platform X.
Violence between Israel and the Palestinians has surged since last year, with fatalities in the occupied West Bank hitting a scale not seen in years. "We decided to put an end to all the crimes of the occupation (by Israel). Their time for rampaging without being held accountable is over," said the Ezzedine al-Qassam Brigades, the armed wing of Hamas which controls the Gaza Strip. "We announce Operation al-Aqsa Flood and we fired, in the first strike of 20 minutes, more than 5,000 rockets."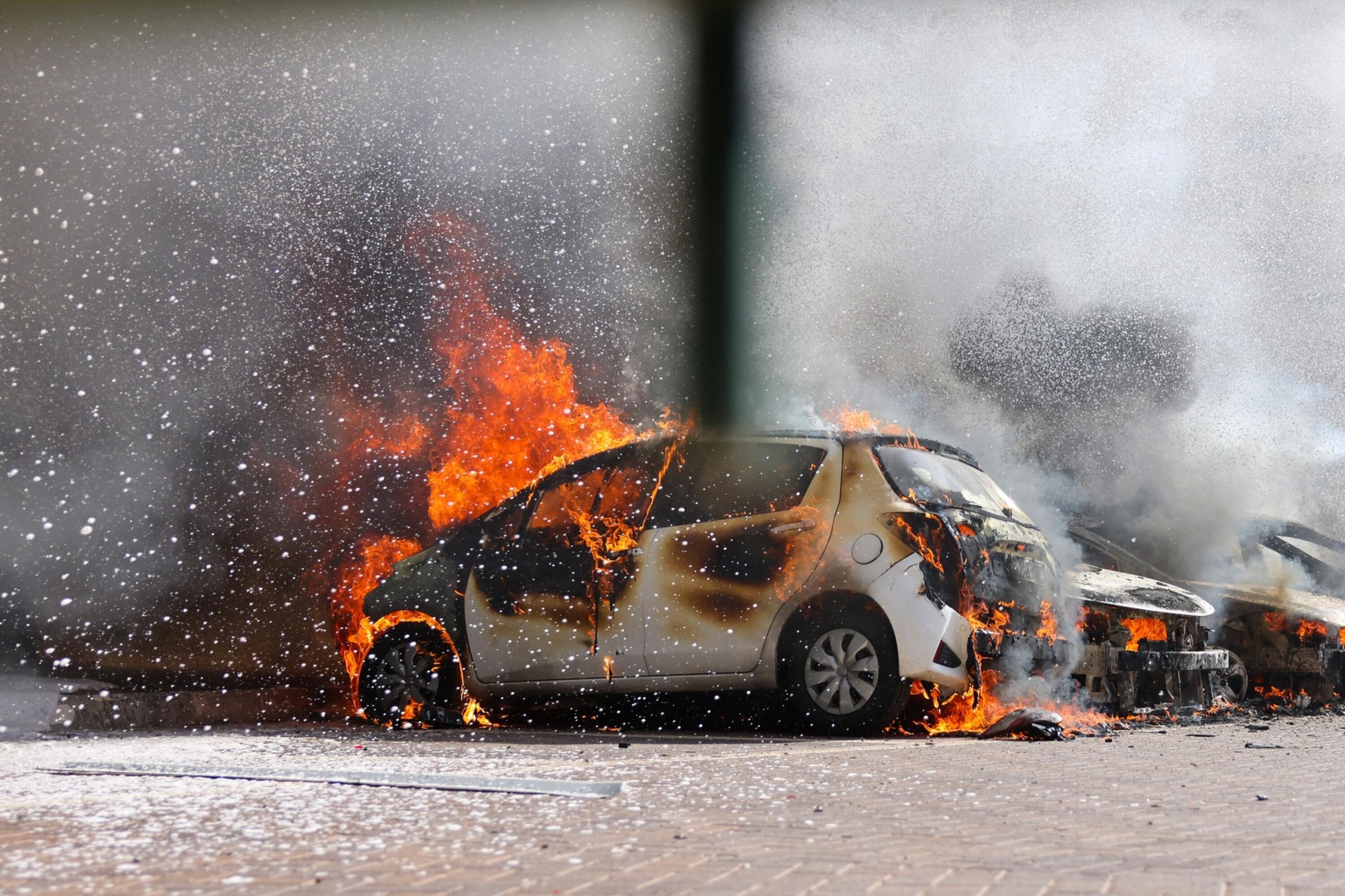 Israel's army said its forces were fighting Palestinian militants on the ground in several locations near the Strip. It dubbed its operation "Swords of Iron". Army spokesperson Richard Hecht said the militants conducted a combined raid with paragliders, by sea and on the ground. Militant infiltration from Gaza, an impoverished enclave that is home to 2.3 million people, has been rare since Hamas took control in 2007. The rocket barrage from Gaza – which Hecht said numbered at least 2,200 – left cars burning beneath residential buildings in the Israeli city of Ashkelon, about 10km north of Gaza.
The attack occurred on Shabbat (the day of rest) and on a Jewish holiday. Israeli Major General Ghasan Alyan warned Hamas had "opened the gates of hell" and would "pay for its deeds". Israel's military began air strikes on Gaza, following the rocket barrage from inside the territory, AFP journalists said. Rockets streamed across the sky after the first launches from multiple locations across the Palestinian territory from 6.30am, AFP journalists in Gaza City reported.
Another AFP journalist saw armed Palestinians gathered around an Israeli tank, which was partially in flames, after they crossed the border fence from Khan Yunis in Gaza. Air raid sirens wailed across southern and central Israel, as well as in Jerusalem, where journalists heard multiple rockets being intercepted by Israeli air defence systems. By midday, the death toll in Israel rose to six, with nearly 300 people injured, The Times of Israel newspaper reported yesterday. Later, Israel's N12 news reported that nearly 100 Israelis had been killed and about 700 were wounded. In Gaza, at least 198 people were killed and 1,610 injured, the health ministry in the Palestinian enclave said.
Palestinian President Mahmoud Abbas chaired a high-level meeting with some top defence officials yesterday and said that the Palestinian people had the right to defend themselves against the "terror of settlers and occupation troops", the official news agency WAFA quoted him as saying. Abbas directed officials "to provide protection for the Palestinian people and provide all that is necessary to bolster the resilience and steadfastness of the people in facing the crimes committed by the Israeli occupation and settler gangs", WAFA reported.
Gazans flee border area
Israeli police set up roadblocks on the highway between Tel Aviv and Jerusalem. Hundreds of residents fled their homes on Gaza's border with Israel in the north-eastern part of the territory, an AFP correspondent said, adding the men, women and children carried blankets and food. In Tel Aviv, residents were seen boarding a bus to seek safety in a hotel. In Israeli-annexed east Jerusalem, some Palestinian residents cheered and blew their car horns as sirens blared. A regional council for Israeli communities north-east of Gaza said its president was killed in an exchange of fire with attackers from Gaza.
Support and condemnation
Hamas, or the Islamic Resistance Movement, was founded in 1987 during the first Palestinian Intifada, or uprising. It is backed by Iran and shares the Islamist ideology of the Muslim Brotherhood, which was established in Egypt in the 1920s. Hamas has run the Gaza Strip after a brief civil war with forces loyal to the Fatah movement led by Abbas, who is based in the West Bank and heads the Palestine Liberation Organisation.
Hamas called on "the resistance fighters in the West Bank" as well as "our Arab and Islamic nations" to join the battle, in a statement posted on Telegram. Lebanese militant group Hezbollah, which fought a devastating war against Israel in 2006, hailed the Palestinians' "heroic operation on a grand scale".
A senior adviser to Iran's supreme leader Ayatollah Ali Khamenei expressed support for the Hamas attack. Iran's foreign ministry said the attacks were proof of the Palestinians' increased confidence in the face of Israel, the ISNA news agency reported. Egypt warned of the danger of escalation of violence and called on both sides to exercise restraint and avoid endangering civilians.
Qatar's foreign ministry said Israel alone was responsible for the escalation of violence. It called on both sides to exercise restraint and for the international community to prevent Israel from launching a disproportionate war against Palestinian civilians in Gaza. The Saudi Foreign Ministry called for an "immediate cessation of violence between Israeli and the Palestinians", the state news agency reported. It also called on the international community to lead a "credible peace process" to achieve a two-state solution.
The US, UK, Italy, Germany, Japan, Ukraine, the UN and France condemned the attacks and backed "Israel's right to defend itself". The Pentagon reaffirmed the US's commitment to Israel's right to defend itself and vowed to make sure the key US ally had the means to do so.
"Our commitment to Israel's right to defend itself remains unwavering," Defence Secretary Lloyd Austin said, adding that the agency would work "to ensure that Israel has what it needs to defend itself and protect civilians from violence and terrorism".
The latest violence follows tensions last month when Israel closed the border to Gazan workers for two weeks and against the backdrop of divisive judicial reforms introduced by the hard-right government.
Reacting to the attacks, a spokesperson for German airline Lufthansa told AFP yesterday it would cut flights to Israel.
"Given the security situation in Tel Aviv," Lufthansa will maintain a single flight to Frankfurt but "all other Lufthansa flights to and from Tel Aviv have been cancelled".
With additional reporting by Reuters, ANI and Sputnik